Global chemical manufacturer makes significant savings on the cost of buying new valves every year. MID's 'quick clean' valve is one of the best valves on the market today for its ability to be opened, cleaned and returned to operational production with a minimum of downtime. MID's focus has always been on designing valves with long operational lives, providing an extremely low cost of valve ownership but this cost can be further reduced through refurbishing the valves back to their original 'as new' condition.........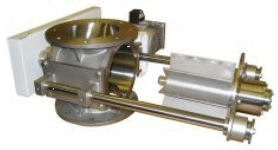 A global producer and supplier of inorganic zirconium based chemicals had previously purchased some of MID's 'quick clean' rotary valves and after 2 to 3 years in service they had become worn and in need of replacement.
Rather than purchasing new valves at a considerable cost, they shipped the valves back to MID's base in Nottingham where they were completely stripped and a survey undertaken to identify the work that was needed to refurbish them to as good as new.
The valves were stripped and cleaned, fitted with new liner bearings and rods, fitted with new rotor tips, the rotor was re-machined along with the end covers and the bearings and seals were replaced as required. After being refurbished the valve was 'as new' condition but had only cost approximately one third of the cost of a brand new valve.
These valves have now been in service for over ten years and due to the regular refurbishment work have provided significant savings in overall running costs.